I was prepared for a local hospital quarantine in Vietnam; I wasn't prepared for coronavirus (COVID – 19).
Since the news broke that an American in Da Nang has contracted coronavirus — number 68 in the country — I have been silent on social media about my condition for a few days. It was awkward. I was content being in a local hospital quarantine (as strange as that sounds), because I had planned to be here, and was actively posting about my containment in a positive manner.
But it was altogether different being infected, suddenly at a ground-zero of the global pandemic. I would have to notify many people of my contact, first and foremost. I would have to move from one hospital quarantine to another more serious quarantine facility for treatment. I'd be subjected to a litany of tests.
And I might have to die.

Grocery Shopping for Quarantine
Thirty minutes before COOP closed, I was hoofing it into this glorious Amsterdam supermarket, although for more ominous reasons this time.
Typically, I like international grocery shopping. I once bought a Yeti (an industrial-strength cooler) to zip-up and check-in cold groceries as luggage, only to unzip them 24 hours later still frozen or chilled. It's a weird little hobby, but one that I enjoy given that I have to travel to global conferences multiple times a month for work, and sometimes there's only time to work under an exhibition roof (they often look the same). For me, I enjoy grocery shopping somewhere new, bringing tasty food back to share with my family. This time was different though. I wasn't there for enjoyment. I was building a really minimalist bug-out bag.
Packaged waffles, boxed teas, sausages . . . good foodstuffs from Europe, essentially, went into my bag and luggage. Things were changing by the hour, but I highly suspected due to my recent travel to Germany, I would be quarantined as soon as I got to the airport in Da Nang, Vietnam, my home. I would be precisely correct.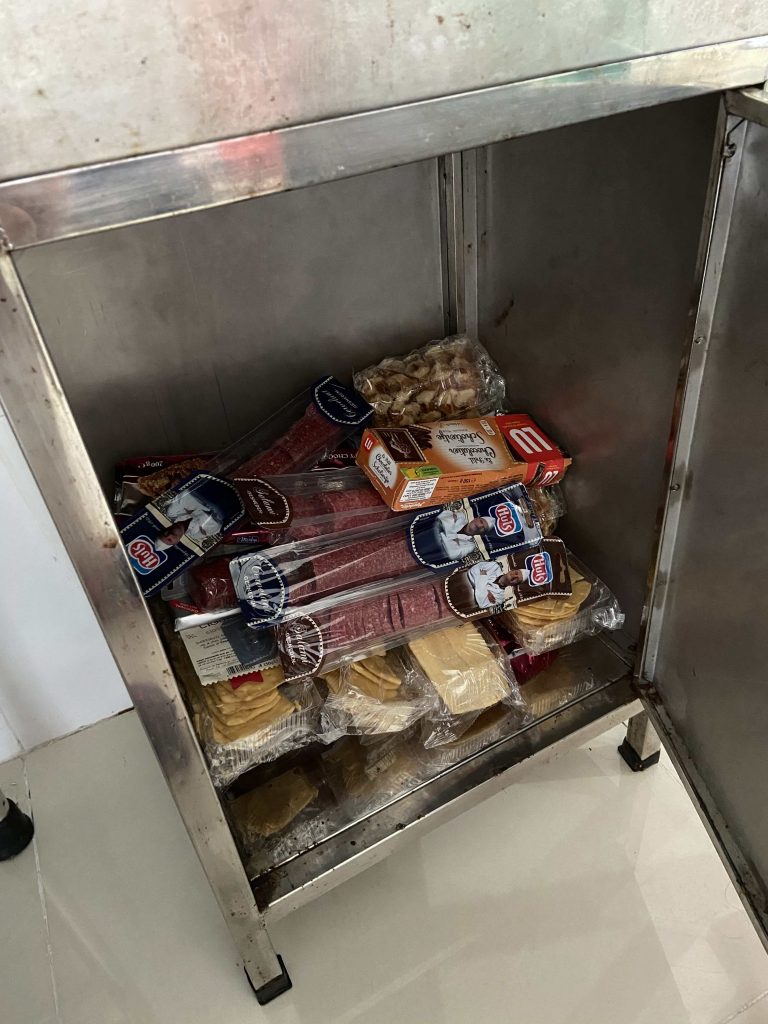 Recent news about my coronavirus status reported that I was a tourist coming to Da Nang. Not so. It has been my wonderful home for five years, along with my wife and children. That said, I still need reminders of the West, and hence, while I enjoy local food, I need my sausage and waffles.
Also, contrary to some online suggestions surrounding those reports, I wasn't out gallivanting as a rich American tourist at a time of crisis. As a CEO and company founder, I was trying to save the medical publishing business I started 11 years prior in Singapore. My family and dozen employees depend on it, not to mention our future as pioneers in medical communication, which is my life's vocation.
Testing Positive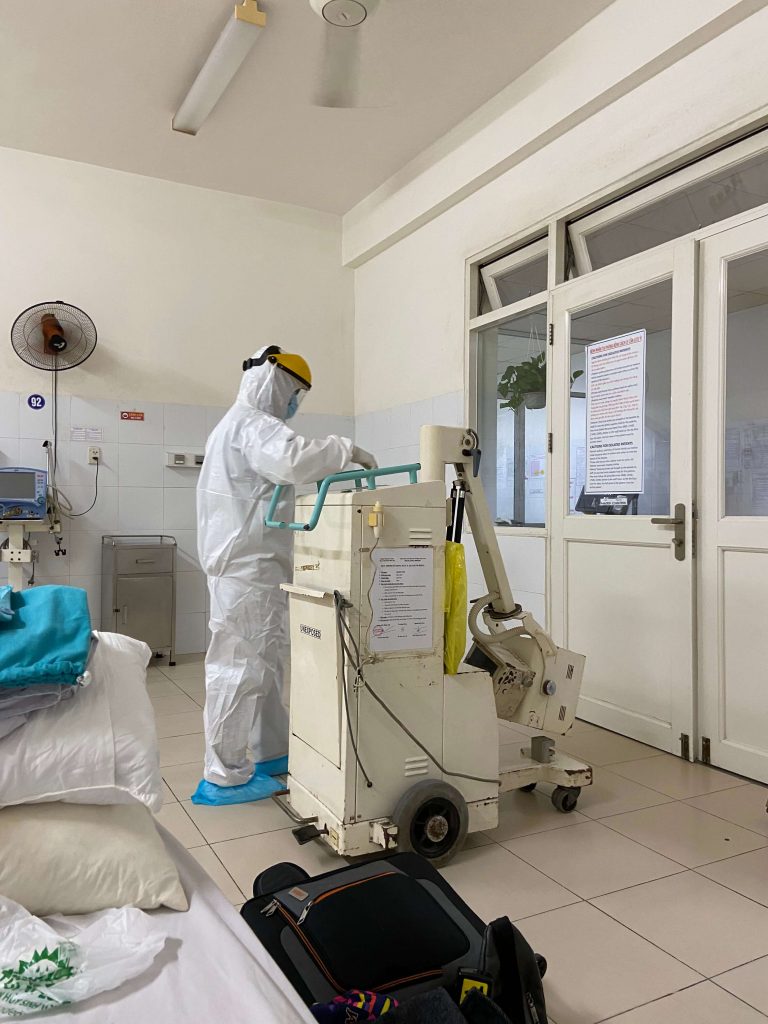 On Wednesday, March 18, I tested positive for coronavirus (COVID – 19) back in a local hospital quarantine in Da Nang, Vietnam. The news was devastating . . . and embarrassing.
Having been on a media tour, I would now have to notify so many people — including many customers — that I put them at risk for coronavirus by virtue of our simple contact. Contrary to the advice of my friends, family and colleagues, who advised total rest, I stayed up late Tuesday night on my laptop sending email after email to notify those at risk. These same people just days before had been extremely supportive of my quarantine at a local hospital due to my travel to Germany. But would they be supportive now, knowing that I may have infected them?
To their credit, every single person in my network was. I'm not saying I deserved this outpouring of support. I'm saying it happened.
Some may be reading this who was unaware of my coronavirus status until now. Coronavirus (COVID – 19) symptoms appear 2-14 days after exposure, according to the Centers for Disease Control and Prevention (CDC). As I started displaying symptoms late at night on Monday, March 16 — including minor headache, minor backache, phlegm and shortness of breath — I tracked back 14 days to essentially the beginning of March and notified many of those I had come into contact with (if I didn't notify you for some reason and you feel I should have, I'm sorry. It is not an easy task to remember and notify potential contacts, especially when sick. The timeframe of notification also is not set in stone, I realize).
After that, I waited to live or die.
I suppose I will live, given that I am not elderly, but my shortness of breath was a concern. I have experience with exercise-induced asthma and cough-variant asthma. Were those underlying conditions that would put me a graver risk of death? Would my shortness of breath eventually require intubation? Little information was forthcoming.

Rewind to 2019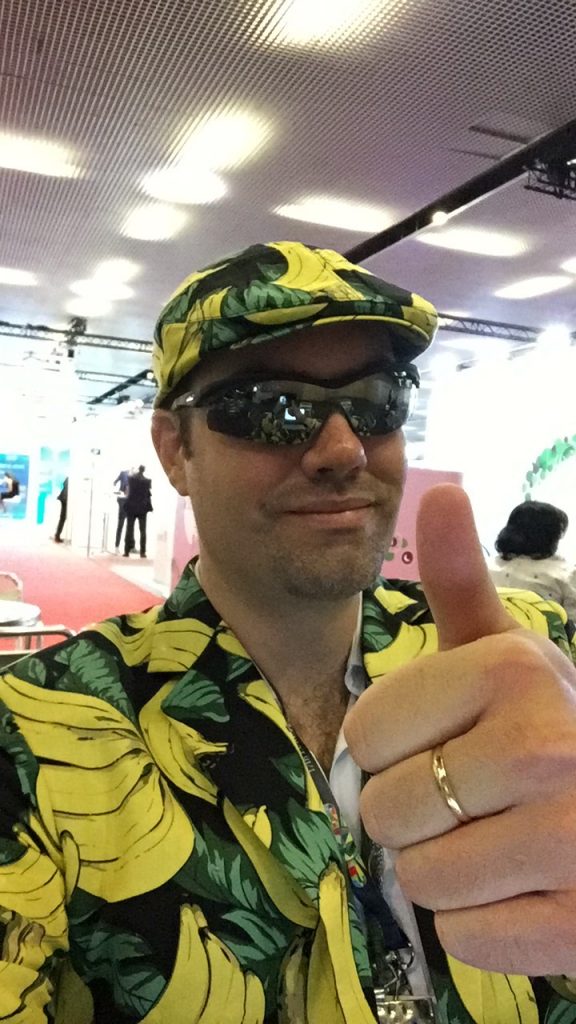 For Media MICE, 2019 was a banner year. I remember November 24, 2019, very fondly. I was still wearing my banana shirt, black fedora and dark shades from the conference and dancing to a Shanghai salsa band (they do exist), having just finished a successful media partnership with the Asia-Pacific Vitreo-retina Society (APVRS). The whole team was there. My colleague Rob and I were dressed akin to "The Blues Brothers" — that is, the 1980s stars John Belushi and Dan Aykroyd in the movie of the same name — except we called ourselves "The Banana Brothers."
I keep going back, but so much of the weirdness of what we do requires context.
In 2017, a couple days before the European Society of Cataract and Refractive Surgeons (ESCRS) meeting in Lisbon, Portugal, I spotted some banana short sleeve shirts in Hoi An, Vietnam. Right around then, local Da Nang expats may remember fruit fashion started becoming popular in our city. However, for whatever reason, I asked a tailor to make me a full fruit suit. The first one — turned around within a day — was a banana suit. I asked for three more (watermelon, strawberry/flower and orange). I asked for matching flat caps as well. They were finished just in time before my flight.
This would continue my trend of wearing outrageous "fashions" for inbound marketing purposes at conferences we attended. I figured we were in media — though in a very dry medical field of ophthalmology. Still, I thought, we should stand out and shine a light on issues — whether with flower or banana power. Looking ravishing also had the effect of starting conversations.
But this time was different. While I had worn different shades of Google Glass in the past; carried a Double Robot around the world with my Indian colleague as robotic telepresence; donned gangster outfits, pirate outfits, and committed various forms of skullcap-duggery in ophthalmology — I was not ready for the response in Lisbon.
It was ginormous. Committing my zaniness in ophthalmology to the form of a suit was incredibly powerful. At the time, we published 3,000 hardcopies of PIE magazine (Posterior segment – Innovation – Enlightenment) and were out by noon on the first day. And this was for an anterior segment conference! No sin to any layman, but in the ophthalmic industry, you just don't typically mix anterior and posterior . . . well, until we did. "Like Ice Cream on a Cone, Dumbbells and Biceps, Burgers and Fries, Fish on Hooks, Wine and Cheese, and Milk and Cookies, the Anterior and Posterior Segments are Better Together" we proclaimed. That is, until we published CAKE (Cataract – Anterior segment – Kudos – Enlightenment) magazine two years later, and we happily divided the segments of the eye once again to provide specialized knowledge about each one.
Essentially, by the outlandishness of our outfits in a sophisticated and sane medical industry, and the thematic angles of our content, we proclaimed ourselves to be ophthalmology's first funky magazines. We thought of ourselves as MAD magazine in style, but serious ophthalmic journalists in substance. We believed our contribution, over time, meant more doctors reading our content, spreading knowledge, and making the world of vision better overall.
Hence, we were PIE and CAKE, and on November 24, 2019, we were the opposite of bluesy. We were red hot and on top of the world at Bar Rouge, one of Shanghai's top nightspots. We were slated to post the company's best full-year performance to date — and that more importantly, our hypothesis was right: We were making a difference in spreading more knowledge of surgery and therapies supporting sight.
Seven days earlier, the first case of coronavirus (COVID -19) was detected in another part of China: Wuhan. Little did we know it would change all of our lives in 2020.
The Real-Life Disaster Movie Begins
Asleep, I felt my phone vibrate just after midnight on January 31, 2020. Instinctively, I woke up to find that the Asia-Pacific Academy of Ophthalmology (APAO) annual conference had been postponed due to the outbreak of coronavirus. For us, the APAO had become a major media push each year.
The year earlier for the APAO in Bangkok, we created wildly customized chef outfits (courtesy of our great Hoi An tailors); created the "best recipes of ophthalmology surgery" editions; published both of our magazines and a daily congress newspaper; filmed video interviews from our media stall on-site; and celebrated our Media MICE 10-year anniversary. I gave a speech in which I changed outfits several times, ending up in a tank top that said: "I'm not perfect, but I am one of a kind." My muscles clearly lacked perfection.
But this year, APAO was postponed. My mind went into overdrive.
There was a silver lining. We had been invited to be the media partner for the Annual Meeting of the All India Ophthalmological Society (AIOC 2020), just outside of Delhi, India. Quickly, we decided to shift all our first-quarter efforts into supporting the AIOC with our magazines and a daily congress newspaper. It turned out to be our largest publication experience to date, with all 12,500 hardcopies pushed out over four days. Moreover, we decided to make India the first stop on a worldwide media tour, promoting our media business — but also listening to our customers at a time of impending crisis. We knew 2020 would be a time of disruptive change due to coronavirus. We didn't know at the time it would eventually clear out the streets of Paris, London and New York like in a disaster movie.

Showing Up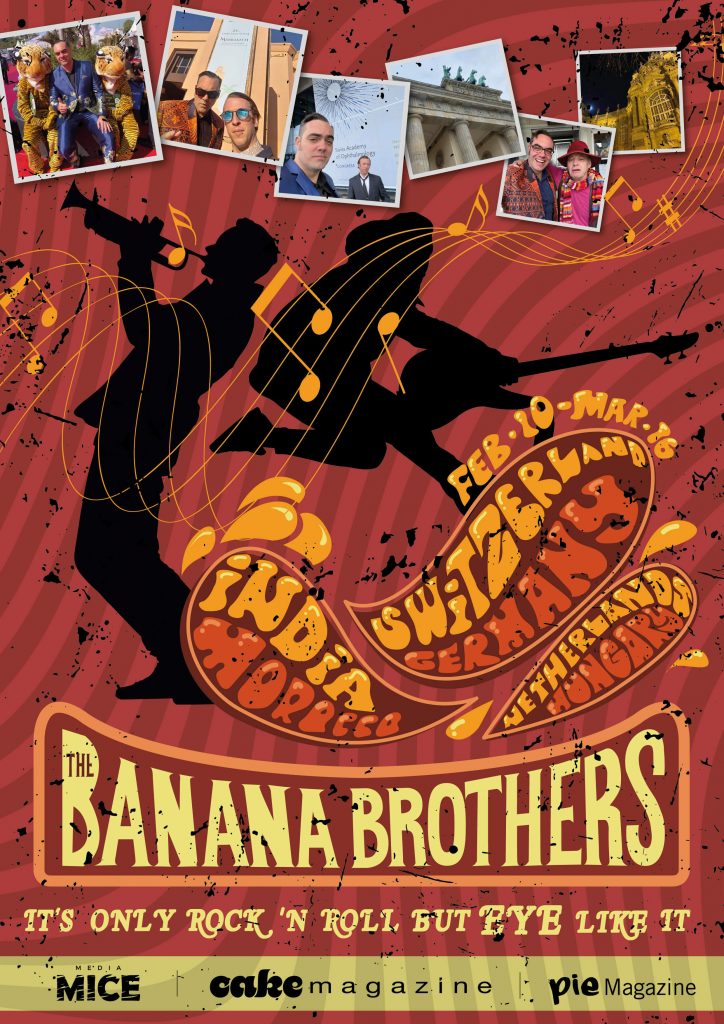 Off to Morocco we went, on the second leg of our journey, where the ESCRS Winter Meeting took place. There, we met with a handful of customers to kickstart our media tour. Then it was on to Switzerland and Germany, where we noticed the lion's share of our European customers were based. Hungary and The Netherlands rounded out our tour, providing the opportunity to meet new customers, understand where the industry was going in a tumultuous 2020 and solidify our cooperation with World Ophthalmology Congress (WOC) representatives, who are based in Amsterdam.
We felt that we were making incredible progress. After a 12-hour drive through a German snowstorm in near-whiteout conditions, we made it to Jena, Germany. We had multiple meetings with our associates at Zeiss, who have been a partner for nearly a decade. Meetings with many other companies were making things clear: We would immediately pivot to much more digital offerings in 2020. With conference cancellation after cancellation, it was apparent that social media, website content, webinars, and the like, would be needed in 2020 like never before — and with conferences rattled, companies were looking to invest in our unique approach, so long as we moved fast enough to fill out the digital space.
We were moving fast — on the autobahn from Berlin at 210kph on a Sunday to make a meeting the following day in Basel, and on a flight the following day to Budapest to round out a connection we made in Marrakesh. On another day, we reached Berlin at 2 a.m. after driving all night from Frankfurt, only to find our morning meeting was canceled. But we showed up, and that's an important part of business life — or so we thought.
Today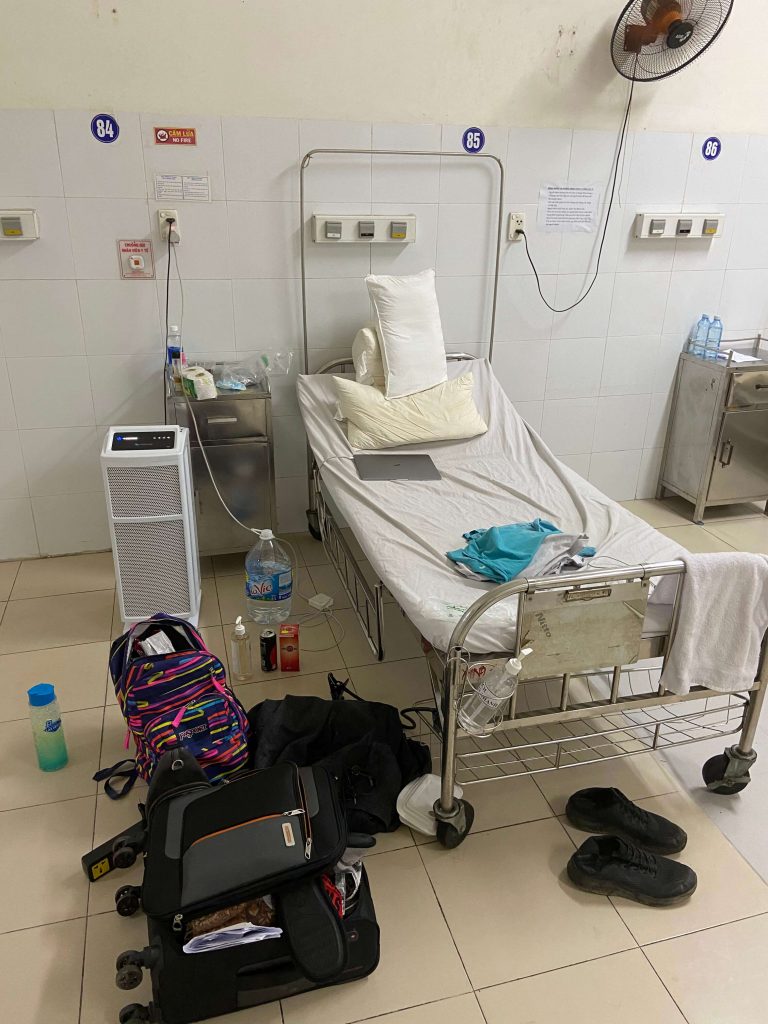 It is now Friday, March 20, at 8:35 a.m. Today begins day 7 of my hospital quarantine. It is day 4 of being coronavirus positive.
I feel that in relaying my story in Vietnam, context is critical. I'm one of the first Americans to test positive for coronavirus in Vietnam, a concerning distinction.
What do I feel? How do I evaluate what happened? What do I see looking forward?
Well, on days 1 and 2 of being coronavirus positive, I felt the symptoms described above, plus a bit of coughing. The last two days, fortunately, I have been almost completely symptom-free.
During this ordeal, I experienced a mixture of guilt, as well as fear of death.
I replayed the tape of recent events in my mind, and here's what I remember . . .
When I embarked on the initial leg of my journey to India on February 11, it really was a requirement to continue business as normally as possible. At that time, coronavirus in India was not a major concern. Nearly 10,000 delegates showed up, and almost all without masks. Coronavirus was still — from what I can remember — thought to be a Far East problem, with a possibility of global impact.
Even so, all 16 people in Vietnam initially infected with coronavirus were cured. As of February 25, no new cases had been recorded since February 13. It seemed safe to continue my journey to Africa and Europe without the concern of impacting others.
The ESCRS in Morocco was from February 21-23, which spanned a weekend, and went on without a hitch. It seemed fairly well attended, and flights both going and coming were packed.
The following work week, the Swiss Academy of Ophthalmology meeting also was well attended, and I met with many customers there. Coronavirus was not a major topic of discussion. We met with many other Swiss clients that week — in Bern and Heerbrugg.
Our week of German meetings began the last few days in February, continuing into the first week of March. One German client stayed home and teleconferenced with us, having just gotten back from the Middle East with a cold. I thought it was noble . . . but would I have done the same? Other clients began tapping our feet with their feet, instead of shaking our hands. Still others were forbidden to shake hands at all in the company facilities, a new policy.
I noticed other conferences we were due to attend begin to cancel (Frankfurt Retina and EPOMEC in Dubai).
By the afternoon of March 12, all-virtual meetings (which previously were scheduled as in-person meetings) were happening. The rest were cancelled. On this date, I realized that questions about Germany and coronavirus had been circling, and that it may be challenging to get back home. Quarantine was likely. I went to the supermarket at 8:30 p.m. and built my bug-out bag.
On the morning of Friday the 13th, I ominously flew home to Vietnam — and I haven't set foot into my actual house since then, as I was quarantined immediately at the airport and taken to local hospital quarantine.
I don't recall hearing the phrase "social distancing" one time while I was in Europe. So much happened in the near blink of an eye.
The U.K.'s Daily Mail ran photos of the Causeway from Singapore to Johor Bahru (which I used to cross three times a week) full of traffic on March 17, and completely empty on March 18. It showed crowds gathered at Buckingham Palace in the U.K. on March 13, and nearly empty on March 18. In a handful of days, the world changed forever. And other than the drive in the ambulance, I have seen little of its current state since I was quarantined on March 14 at the Da Nang airport upon entry.
At the same time, I did do some things wrong in the context of the world we live in today. I was still aggressively traveling and meeting at a time when others began videoconferencing. I went to some bars. I pushed the limits of globalization, at the end of that era. It seems we are at the end — at least of the Golden Age.
I also honestly declared where I had been internationally at Da Nang Airport. I had no symptoms upon arrival and everyone else on my flight seemed to make it through customs without an issue. But I declared and was immediately taken into quarantine at a local hospital. A local news site later said I had exceedingly little concerning contact with the local populace as I exited the plane — mostly with health care workers, which by my recollection were in full hazmat suits.
While some guilt remains over possible contact, I know that I did not bring coronavirus to Europe from Asia (as my symptoms appeared way after my February 11 departure date). And I know by immediately declaring I had been in Germany, that I limited my contact with Vietnamese people based on an immediate quarantine. Had customs not flagged me, my wife had prepared a home quarantine for me in Da Nang in a room I call "the bunker."
Vietnam: Developed Nation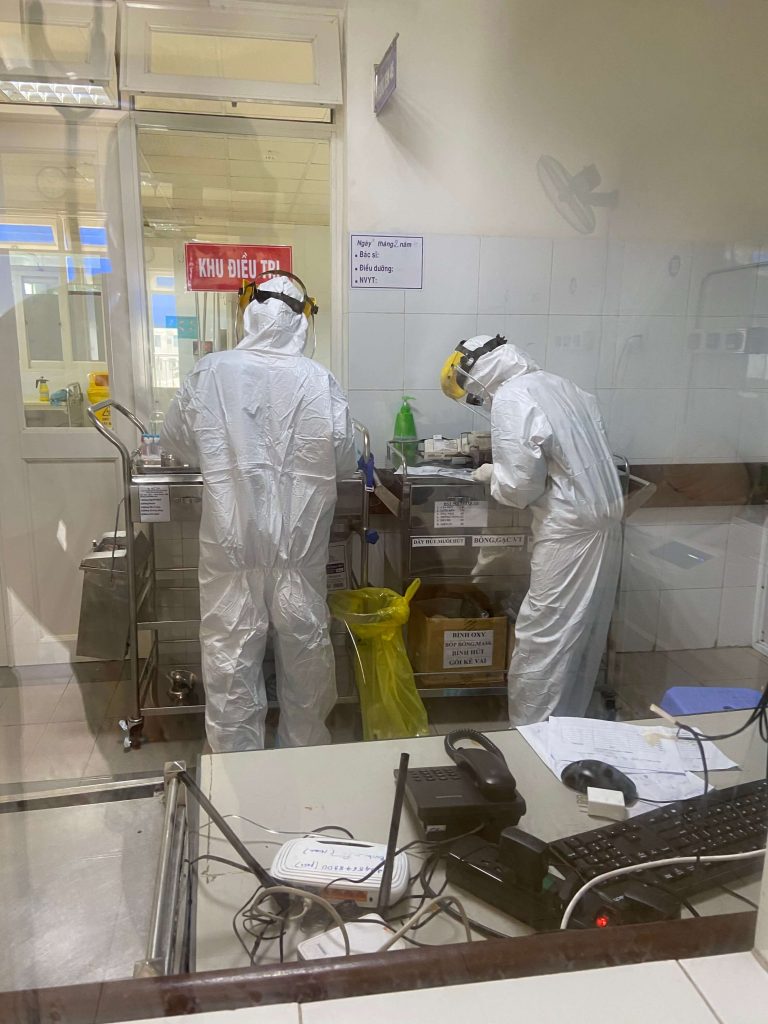 But Vietnam did quarantine me, and this last part of my story I would like to devote to the people of Da Nang.
Your health care workers have devoted tireless hours to my cause.
While they are in hazmat suits, their bedside manner is impeccable. I can tell by the friendliness to which they respond to my overtures such as "xin chào" (hello) or "cảm on" (thank you). I see through the masks and plastic . . . and I see smiles.
While the facilities are modest, what I love about Vietnam is that it impresses upon you how simple living — even within a hospital quarantine — is good living. The shower can be made hot, although a cool shower is sometimes just as nice or better. While there is no air conditioning in my current room, there are plenty of fans (and I don't think air conditioning would be good for my health anyway at this time).
They clearly know what they are doing, because as of today, no deaths have been reported related to coronavirus in Vietnam.
I haven't always been a fan of Vietnamese food — even after 5 years, but I am now. Every meal has been delicious in the local hospitals. That's incredibly ironic, as hospital food in the West is known to be appalling. And my bug-out bag, though nice, wasn't really required after all. It's just for creature comforts now.
The entire healthcare system is quite communicative, from the deputy director of the local CDC — who speaks to my wife — all the way to the local English-speaking nurse, that has me on WhatsApp and even asks me what I would like for lunch.
Even though initially I wondered about a camera in the corner of the room, I realized that they were vigilantly keeping an eye on my vital signs. I once tried to turn a machine to see my oxygenation levels, and my wife called and said to turn it back toward the camera. She was translating for the hospital, which wanted to keep my vitals in view of their human monitors. That's a keen eye on my treatment!
And so, I dedicate this last paragraph to a particular idea about Vietnam, whose time has come to rise in the world. Although I am but a small part of the world's healthcare industry, I would like to say this: Vietnam has reached developed nation status when it comes to preventing and treating coronavirus, which is something even my own country of the U.S. cannot say. For some time, many people thought it was such an odd choice for an American to live in Vietnam. Now, not so much, huh? I say that knowing I'm not out of the woods — or quarantine — yet. But I am happy to be here, or as happy as can be expected.

Editor's Note: Matt Young is the CEO of Media MICE and Publisher of PIE & CAKE magazines.