Vulnerable to many possible types of diseases and injuries, the retina is a hotbed of potential issues. Anything from genetic factors to even cosmetic procedures could serve as a risk. Learning from case studies is vital to prevention (where possible), but also for better diagnoses and subsequent treatment decisions. This was demonstrated by the following cases presented at the recently held 5th ASEAN Ophthalmology Society Virtual Congress (AOS Virtual 2022). 
FAF Helps in Stargardt's Disease Diagnosis
No one could've suspected anything was amiss when a 7-year-old patient came in for a regular eye check-up. Dr. Thanaporn Kritfuangfoo from Ramathibodi Hospital in Bangkok, Thailand, presented the case of a juvenile macular atrophy patient.
The girl's visual acuity was 20/40 in the right eye and 20/50 in the left. With no previous medical history or any medical complaint, the fundus photo of her right eye was clear and the vasculature was normal without any macular edema. Her left eye also appeared normal. The OCT showed nothing remarkable.
However, the fundus auto-fluorescence (FAF) revealed a subtle increase in foveal autofluorescence while maintaining a small central zone. An infrared autofluorescence (IRAF) showed speckled hypo-autofluorescence lesions in the macula area, Dr. Kritfuangfoo said.
Differential Diagnoses Considered
Congenital infections such as rubella were suspected, and toxic or laser maculopathy were considered, but a deeper probe quickly ruled out these diagnoses. In the end, retinal dystrophy became the chief suspect of her subnormal vision.
"We found that her older sister also had a vision problem in both eyes which improved with eyeglasses. Her sister's fundus photo showed bilateral yellowish flakes at the posterior pole," said Dr. Kritfuangfoo.
Widefield FAF showed disseminated speckled hypo- and hyper-autofluorescence corresponding with the chorioretinal atrophy and the flakes; the initial foveal atrophy presented as well. The OCT scan showed the outer retinal lamination was thinning at the central area. Finally, the disruption of the ellipsoid zone was more pronounced in this patient.
"All of the above are the typical features of Stargardt disease," she said.
Stargardt disease is an inherited condition where a slow loss of central vision occurs in both eyes.1 It is a type of macular atrophy that affects juveniles and youths. There is currently no cure for it.2
Dr. Kritfuangfoo learned that patients with a suspected early onset of Stargardt disease should undergo FAF or OCT.3 "These diagnoses should also be confirmed by screening for the presence of the ANCA4 gene mutation."
Occlusive Retinal Vasculitis in SLE
Ocular manifestations are a marker for systemic lupus erythematosus (SLE), a chronic, auto-immune, connective tissue disorder that affects multiple organ systems, often with a relapsing and remitting clinical course. The manifestations can occur in up to one-third of all SLE patients.
In a case study of a male patient, Dr. Carlo Ladores from the University of Santo Tomas Hospital, Manila, Philippines, detailed the progressive proliferation of occlusive retinal vasculitis. The patient had reported a progressive blurring in both eyes ever since his diagnosis of SLE in 2008. This led him to wear prescription glasses in 2015 which improved his vision. It was only in 2019 that he consulted with Dr. Ladores for dimming vision in his right eye. After having detected ischemic areas on FA and cystoid macular edema on OCT, the patient was advised to undergo PRP for the right eye and also intravitreal anti-VEGF treatment.
Unfortunately, the patient experienced a seizure and was admitted to the hospital. He also had an SLE flare, potential TB lymphadenitis, and was in an immunocompromised state.
Further investigations led Dr. Ladores to question if the patient had a more severe form of SLE — one associated with antiphospholipid antibody which is thrombogenic and is linked with CNS and ocular vaso-occlusive events (Hughes' retinopathy).
A 1999 study by Montehermoso and colleagues4 mentioned that 77% of patients with SLE and retinal involvement had positive antiphospholipid antibody titers, whereas only 29% of SLE patients without retinal disease had positive titers. Subsequently, this patient tested positive for antiphospholipid antibody. "The occurrence of retinopathy in SLE due to antiphospholipid-induced retinal vascular thrombosis constitutes Hughes' retinopathy," said the study authors.
As a general practice, lupus retinopathy is treated by control of systemic SLE with systemic corticosteroids and immunosuppression. However, even with improved appearance of retinopathy after systemic treatment of SLE, good visual recovery is seldom achieved which may be attributed to the presence of retinal ischemia.
Indirect laser was the best treatment at that time for the patient due to the seizure in order to prevent neovascularization and risk of hemorrhage, Dr. Ladores said.
In conclusion, occlusive retinal vasculitis rarely occurs in SLE retinopathy. "When it develops, it is a sign of active SLE. Visual loss or even death may occur if left unevaluated or untreated. Systemic SLE control is essential. However, visual recovery is infrequent. Thus, the target of therapy remains the prevention of further vascular events," concluded Dr. Ladores.
Laser Accidents: Points to Ponder
In another interesting case, Dr. Panisa Singhanetr from Mettapracharak Hospital, Thailand, encountered a 28-year-old Thai female patient who presented with acute vision loss after a Y10G mode laser was accidentally fired into her right eye for 1 second. She was cleaning the probe after usage and was not using any protective devices.
Two days after the incident, she only had perception of light (PL) in her right eye while her left eye was 20/20. A fundus examination of her eye showed a whitish burn lesion at the foveal center of the right eye.
The patient was diagnosed with laser-induced maculopathy and was prescribed a few oral steroids and timolol eye drops. After 5 days, her right eye improved to 20/80 but blurred vision persisted. An OCT of the patient's macula showed there was focal subfoveal hyperreflectivity. There are also outer IS/OS disruptions subfoveally in the right eye with the RPE intact, while no abnormalities were seen in the OCTA.
On fundus autofluorescence (FAF), a faint hyper-autofluorescent is seen at the foveal center correlating with the yellow lesion on the earlier fundus examination. Her medication was then discontinued.
After 6 weeks, a color fundus photo of her right eye showed the yellow focal burn at the center could barely be seen while her best corrected visual acuity improved to 20/20. On OCT, the hyper-reflective band is gone and the slight yellow hyperfluorescence on FAF also faded.
The laser used in this case was the dual yellow multi-wavelength copper bromide laser used in cosmetic clinics. Dr. Singhanetr said the increasing popularity of cosmetic laser procedures of the face have also seen a rise in the number of reported ocular injuries. "Most of the reported injuries were from laser hair removal of the periorbital areas, in particular with 755 nm alexandrite and diode (800-983nm) lasers," said Dr. Singhanetr.
Closing Eyes is Not Protective Enough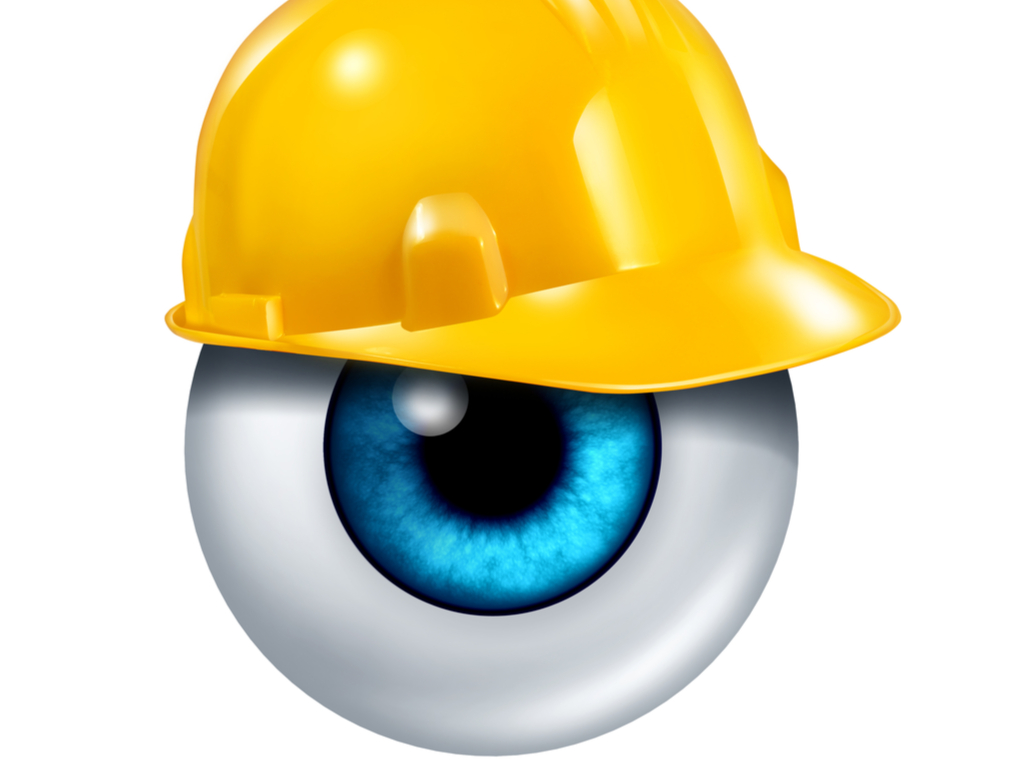 A majority of the ocular injuries are associated with cosmetic lasers involving the anterior segment, highlighted Dr. Singhanetr.
The eye contains pigment-rich chromophores (RPE and iris) that absorb laser energy. Eyelids are too thin to sufficiently protect the eye from any injuries. "Therefore, having your eyes closed during laser treatment is not enough," she explained.
The injuries sustained are immediately apparent. About 62% of the reported cases did not have proper eye protection. In addition, the retina — and in particular the macula — is most susceptible to laser injuries. The extent of injuries depends on the laser's wavelength, duration of exposure, and method of administration.
Laser injuries from laser pointers are common among adolescents; cosmetic injuries occur often among an older age group, with scotomas, a sudden decrease in vision and foveal pigmentary change, macular holes, as well as subhyaloid hemorrhage observed on fundus. It was also noted that the nd:YAG laser causes photodisruption and she said that many cases from this laser were linked with vitreous hemorrhages.
Most laser induced ocular injuries will improve spontaneously without treatment,5 but permanent vision loss and scotoma may last. Generally, 55% of eyes recovered to a visual acuity of 20/25 or better within a few months and 36% recovered to a VA of 20/100 or 20/30.6
Prevention and awareness are most important for laser injuries as there aren't any evidence-based treatments so far. "Wavelength-specific goggles or spectacles should be worn during procedures and should not be taken off until the end of the procedure," she said.
Eye protection should be essential, even for observers and operating personnel. There should also be sufficient cooling of treated areas to prevent overheating of metal corneal shields and treating physicians operating lasers should be properly trained, Dr. Singhanetr concluded.
Editor's Note: The 5th AOS Congress was held virtually on March 26-27, 2022. Reporting for this story took place during the event.
References
Tsang SH, Sharma T. Stargardt Disease. Adv Exp Med Biol. 2018;1085:139-151.
National Eye Institute, Stargardt disease. National Eye Institute. Available from: https://www.nei.nih.gov/learn-about-eye-health/eye-conditions-and-diseases/stargardt-disease Accessed 24 April 2022.
Khan KN, Kasilian M, Mahroo OAR, et al. Early Patterns of Macular Degeneration in ABCA4-Associated Retinopathy. Ophthalmology. 2018;125(5):735-746.
Montehermoso A, Cervera R, Font J, et al. Association of antiphospholipid antibodies with retinal vascular disease in systemic lupus erythematosus. Semin Arthritis Rheum. 1999;28(5):326-332.
Wong EWN, Lai ACH, Lam RF, Lai FHP. Laser-induced ocular injury: A narrative review. Hong Kong J Ophthalmol. 2020;24(2):51-59.
Barkana Y, Belkin M. Laser eye injuries. Surv Ophthalmol. 2000;44(6):459-478.