OIS Israel never disappoints. Held virtually for two years in a row now, this showcases innovation at its most sophisticated level. From ophthalmic tech to medical and surgical innovations, the world needs to know what Israel is doing right in this arena.
The Notal Home OCT
This particular exhibitionof Israeli innovation began with a case study focused on artificial intelligence (AI) and remote diagnostics, led by Notal Vision CEO, Kester Nahen, PhD.
Notal Vision, Inc. (Tel Aviv, Israel) makes several products at the forefront of diagnostic medicine. The Notal Home OCT is a remote diagnostic monitoring device for patients with sight-threatening intra- and subretinal fluid. It is designed to allow constant monitoring of sight based on daily patient self-imaging done at home, rather than making a patient wait for imaging until they see a physician.
Currently, patients may suffer from an acute onset of a disease between physician visits, but with the Home OCT device, patients are able to test themselves daily in their own homes. It is an easy to use, patient-oriented device that takes less than one minute to use per eye.
Once it has scanned the retina it uploads the image to the cloud, where it is analyzed by AI and any changes that meet a physician-selected threshold are reported to the prescriber. Daily examinations mean fluid is tracked over time to enable individualized remote patient monitoring and alerts. Physicians have 24/7 access to the data and receive a monthly interactive surveillance report to manage the patient.
The Home OCT has had excellent results in clinical trials and Notal Vision is aiming to get FDA clearance in Q2 of 2022.
AEYE Health's Aurora AEYE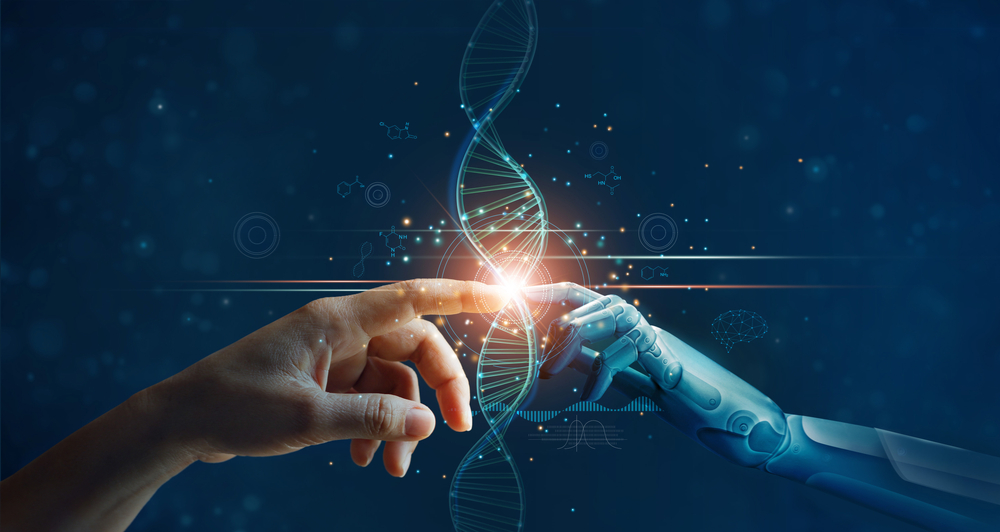 Co-Founder & CEO of AEYE Health, Zack Dvey-Aharon, PhD, gave a presentation about how AEYE Health is combining top quality AI with new innovations in retinal screening — effectively making diagnostic screening available everywhere.
AEYE Health (New York, USA) has produced the Aurora AEYE, a handheld camera with an integrated diagnostic AI. This is the first ever handheld diagnostic bundle that makes screening for more-than-mild diabetic retinopathy quicker, easier and more accessible. A primary-care physician, endocrinologist or pharmacist takes an image of the patient's retina using the handheld scanner, the on-board AI scans the image, and then only those with suspicious findings are referred to an ophthalmologist. In a study released in May 2021, when screening for diabatic retinopathy with the Aurora AEYE, physicians are able to achieve 92.7% sensitivity and 95.3% specificity – incredibly high numbers, especially for a handheld device.
AEYE Health also has the Broad Screening Service, the broadest screening solution on market by far. It can scan a single image per eye for 12 different indicators: diabetic retinopathy, occlusions, glaucoma, DME, hypertensive retinopathy, papilledema, AMD, hypertension, cardiovascular risk, cancer indicators and dementia (alpha). Being able to look for all 12 indicators from a single image makes the Broad Screening Service the most comprehensive screening solution on the market.
The Beyeonics One: From Aviation to Medicine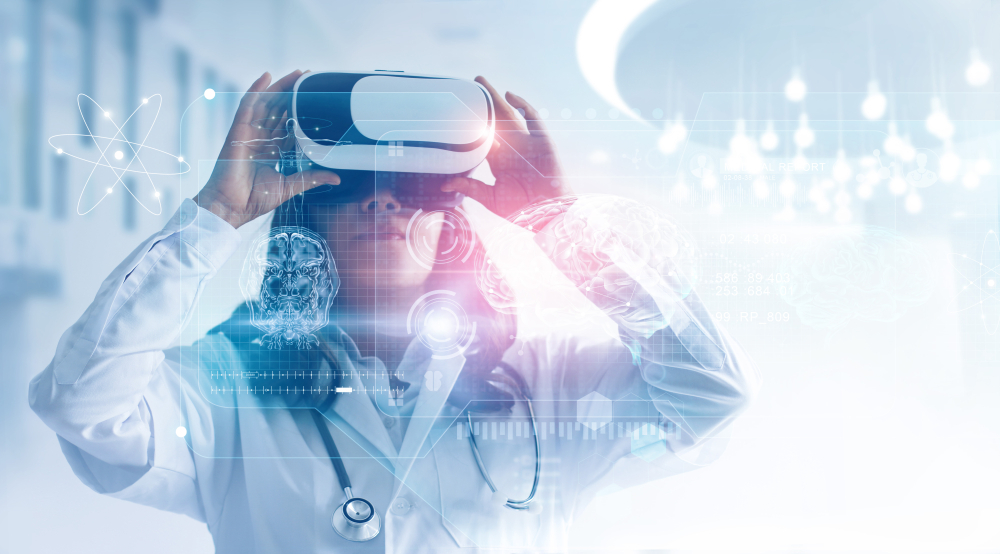 Ron Schneider, MD, CEO and co-founder of Beyeonics (Haifa, Israel) gave an overview of the Beyeonics One visualization system, a digital augmented reality exoscope for ophthalmic surgery. The company began by developing head-mounted displays for aviation, and then adapted and integrated that technology into the medical field.
Beyeonics One is a full visualization system for anterior and posterior segment surgery. It is composed of a high-resolution stereoscopic camera head displayed with a resolution more than eight times better than 4k and zero latency (<20 msec), which can be transmitted to up to three head-wearable devices as well as a 3D TV and touch screen for other staff. Because the image is displayed on a headset rather than making the surgeon bend down to see into a microscope, the surgeon is able to sit comfortably and normally in surgery whilst looking into a 3D immersive display, with virtual screens and can control all system functions using intuitive head gestures, diagnostics and real-time data overlaid seamlessly on the visual field.
EyeYon Medical's EndoArt
Nahum Ferera, CEO and co-founder of EyeYon Medical (Ness Siona, Israel) discussed the EndoArt. There are approximately 12.7 million people with corneal edema waiting to receive corneal transplant, but the reality is that there are not enough donor corneas and the surgery is complex and expensive. This means that only 200,000 operations are performed every year, fewer than 1 in 60 of what is required.
Therefore, EyeYon has developed the EndoArt – a synthetic implant that treats the root cause of the corneal edema, leaving the cornea intact. Instead of removing the old cornea and replacing the donor tissue, a polymer film is attached to the posterior corneal surface, thereby resolving the source of the problem. It is minimally invasive procedure that can be performed by any anterior segment physician
They have so far operated on 22 patients, all of whom have shown a reduction in corneal thickness, a decrease in pain and improvement in eyesight.
Elgan Pharma's ELGN-EYE for ROP
Miki Olshansky, co-Founder and CEO of Elgan Pharma (Nazareth, Israel) spoke about how her company focuses on rare conditions in neonates such as retinopathy of prematurity (ROP), which effects 70-90% of very young premature babies, and for which there is no approved treatment for preventing or curing. The solution is ELGN-EYE, an infant targeted, local nano-emulsion therapy in the form of eye-drops with a high penetration profile, that promotes normal retinal blood vessel development and reduces oxidative stress, toxicity and inflammation. It has completed phase 1 trials and phase 2 is ongoing and Elgan Pharma believes there is a market of up to 53,000 patients a year.
Orasis Pharma's Eye Drops for Presbyopia
Elad Kedar, CEO of Orasis Pharmaceuticals (Herzliya, Israel) spoke about how his company is developing eye drops to treat the 1.8 billion people worldwide who suffer from presbyopia and currently wear glasses. Using eye drops to effect pupil modulation without affecting distance vision or night vision is extremely difficult. However, by using a low concentration of pilocarpine with a proprietary multi-faceted vehicle, Orasis Pharmaceuticals was able to strike the perfect balance.
In phase 2b studies they were able to achieve excellent improvements, with 47% of subjects achieving a ≥3-line improvement versus baseline, only mild and temporary adverse events and, importantly, no negative impact on distance and night vision.
Blink Energy's Smart Eyelid Patch: BlinkIt
Yariv Baron, co-founder and CEO of Blink Energy (California, USA) spoke about how his company is developing a new way of charging the latest generation of ocular and intraocular devices such as Google's Physio sensors and Sensimed's Smart contact lens, which currently need to be charged externally, often with bulky systems.
The BlinkIt is a "smart eyelid patch" that charges the lens and communicates with the outside world. Every time the patient blinks it charges their smart contact lenses with an ultra-thin, ergonomically designed patch that slides within the epicanthal fold. Not only does it charge the smart contact lens with every blink, but it can also communicate with the lens and then pass on information to and from the outside world.
Corneat Vision's CorNeat KPro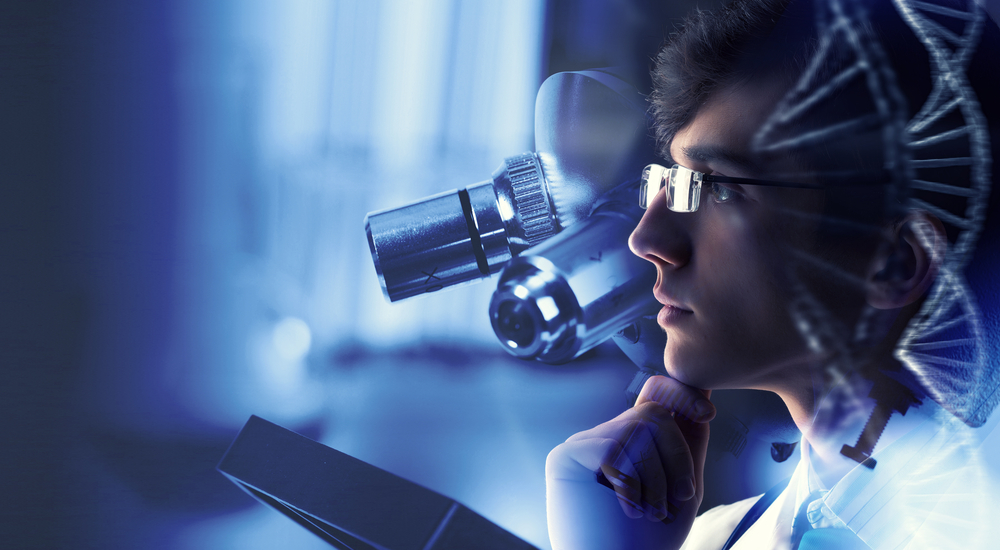 Almog Aley-Raz, CEO and VP R&D of Corneat Vision (Raanana, Israel) spoke about the CorNeat KPro, which is a reliable synthetic substitute for the human cornea that can restore sight to corneal blind patients with a simple operation and follow up. Rather than trying to integrate with the native cornea, the CorNeat KPro is connected via a nanofiber skirt placed under the conjunctiva. This area is rich with blood vessels and heals easily and, once implanted, the lens gives vision with a wide field of view that is equivalent, or even better than the original quality of sight.
MIMS Procedure by Sanoculis
Nir Israeli, CEO and co-founder of Sanoculis (Kiryat Ono, Israel) talked about its MIMS procedure, a stent-less, simple and fast way to perform glaucoma surgery. Using a single-use sterile tool and a multi-use external machine, a tiny sclerocorneal drainage channel is drilled and removed from the eye. This reduces intraocular pressure as the intraocular surplus fluid is allowed to drain from the anterior chamber into the subconjunctival space. The procedure is minimally invasive, takes only around two minutes and is simpler and faster than existing methods. It has efficacy similar to trabeculectomy with fewer side effects — and 97% of patients did not require anti-glaucoma medication afterwards.
Everads Therapy's Suprachoroidal Tissue Separator
Moshe Weinstein, CEO of Everads Therapy (Tel Aviv, Israel) spoke about the Everads suprachoroidal tissue separator, which opens a channel to the choroid, allowing the surgeon to inject into the suprachoroidal space. This method has a proven ability to quickly reach the back of the eye and macula and can deliver large volumes (up to 200 μl) of viscous material and large particles.
This technique has several advantages, but the most important are that it allows the targeting of the choroid and retinal tissues with posterior and circumferential spread, it is an effective way of reaching the posterior pole and macula, and it does not interfere with the visual axis.
Ophthalmic Sciences' IOPerfect™: Contactless IOP Monitor
Ariel Weinstein, CEO of Ophthalmic Sciences (Tel Aviv, Israel) spoke about their intraocular pressure monitor. IOP fluctuates throughout the day, but by using their new headset patients can easily check their IOP at home with just a two minute test. The test does not require physical contact with the eye and is unaffected by corneal thickness. The results are uploaded to the cloud where they can be accessed by the patient's physician. It allows detection of cataract and corneal edema, central/branch vascular occlusions, ocular motor disorder and early exophthalmia.
Precise Bio on 3D Printing
Aryeh Batt, CEO of Precise Bio (North Carolina, USA) spoke about how they are 3D printing, cell by cell, tissues and organs for transplant. By printing on a cellular scale, they can mimic natural tissue, copying the exact anatomical structure. Because the structure of the cornea is so well understood and is relatively simple, it is fairly easy to 3D print.
Precise Bio has had great success at the pre-clinical study stage and anticipates reaching the clinic in 2022.
NovaSight's CureSight for Amblyopia
Ran Yam, CEO and co-founder of NovaSight (Washington, USA) spoke about CureSight, their treatment for amblyopia, which affects 200 million children. The standard treatment, an eye patch, has only 40% compliance. Instead of an eye patch, the patient watches any streamed content on the CureSight device, which tracks eye movement as they watch. The device then blurs the center of vision of the strong eye, forcing the brain to use the weak eye more and encourages the improvement of binocular vision and 3D perception.
BELKIN Laser Automates Glaucoma Treatment
Daria Lemann Blumenthal, CEO of BELKIN Laser (Yavne, Israel) spoke about their new treatment for glaucoma. It's an automated treatment that can be completed in seconds, simply and easily. Glaucoma affects over 100 million people worldwide, but the number of ophthalmologists who can help them is nowhere near high enough, especially in Asia. The current treatment, eye drops, has low adherence.
Belkin's Direct SLT is an entirely automated procedure that locates the exact treatment area and directs laser beams precisely to that area through the limbus. Clinical trials showed a 22% reduction of IOP at 6 months and the amount of medication was reduced from 1.6 to 0.4 at 6 months. It is even effective on both open-angle and angle closure glaucoma.
Industry Insights on Partnership and Collaboration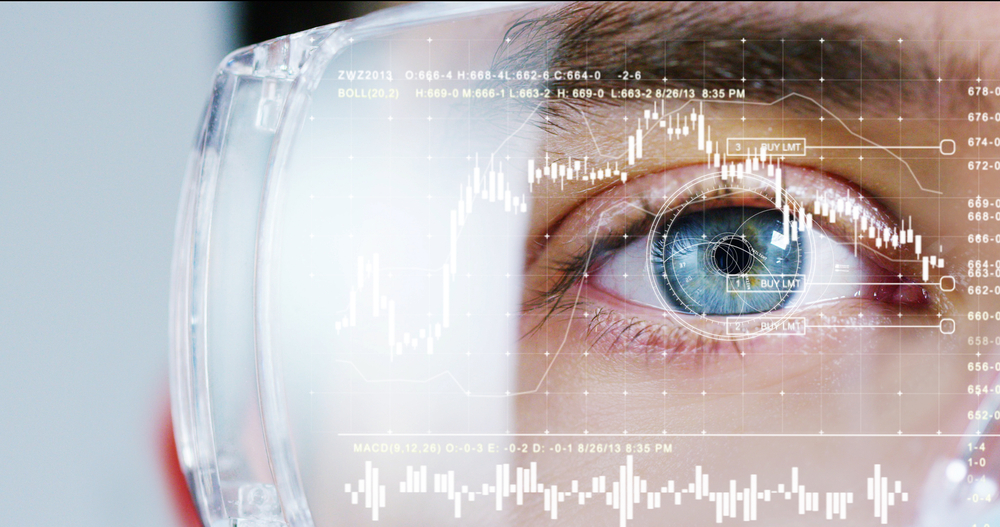 After the company showcase, a panel of four leaders in the field gathered to discuss what companies can expect from investors and strategic partners, as well as the state of innovation in Israel. The panelists were Begoña Carreño, PhD, Global BD&L head of ophthalmology from Novartis; Colin Francou, managing director from Théa Open Innovation; Yaacov Michlin, CEO from Biolight Life Sciences; Prabhu Velusami, MD, New Venture & Transactions Lead for Vision Ophthalmology at Johnson & Johnson Innovation Center.
Prabhu Velusami and Begoña Carreño began by discussing if it was ever too early to approach investors and strategic partners and suggested that as long as a company has a coherent way of treating an unmet clinical need, it was never too early. Approaching strategic partners early on can be great for new start-ups, large companies with a lot of experience can be fantastic assets because they can advise, give feedback and offer course correction to companies that are still establishing themselves, potentially saving them from going down the wrong path early on.
Begoña Carreño spoke about working in Israel, where there is a huge amount of ophthalmological innovation, especially for such a small country. In her view, Israel is impressive because, rather than relying on consultants, Israeli start-ups display a high level of interdisciplinary collaboration, with engineers, clinicians and pre-clinical scientists all working together in a seamless team. Colin Francou was particularly impressed by the high levels of inter-connectivity between companies, even in very different parts of the ophthalmic field, which allows people to share ideas and a high level of cross-fertilization between diverse companies.
Israel is very Conducive to Innovation
Prabhu Velusami said that, in his experience, Israeli innovators are exceptionally entrepreneurial — they ask how interesting science can be commercialized and made compelling from the very early stages. In addition, the funding environment in Israel is very conducive to innovation, including a government that is very supportive, and with excellent leverage mechanisms for early stage funding and start-ups. Yaacov Michlin spoke about the government support of Israeli start-ups, where $200 million dollars are invested yearly into the biomedical field, with grants available all throughout a company's growth cycle. In addition, the government encourages large multi-national companies like Johnson & Johnson to invest in Israel in order to increase innovation and keep growing companies in the country one they are established.
Addressing Unmet Needs in Retinal Diseases
The panel moved on to what they felt were the biggest unmet needs in ophthalmology at the moment and where their companies are looking to invest in the next few years. Prabhu Velusami spoke about how Johnson & Johnson believes there is still a great unmet need in the pharmacological sphere for treatments for retinal diseases such as wet and dry AMD and diabetic retinopathy; they are also looking into neuro-protection for glaucoma and ways for make gene therapy more effective and less immunogenetic.
Regarding contact lenses, J&J are looking for improvements in comfort, new optical designs and designs that address presbyopia. However, looking to the future he believes the biggest unmet need will be myopia, which requires a toolkit of approaches from drops to spectacles and will come to dominate ophthalmological treatment innovation in the next few years.
Begoña Carreño agreed with, and reiterated, many of Prabhu Velusami's points, adding that she believes the world is heading for an epidemic of myopia, especially high myopia — which is going to be the greatest issue in ophthalmology in around five years' time. She also wanted to emphasize that anyone who believes they have found a solution to an unmet clinical need should approach Novartis, as they are always looking for start-ups with the ability to treat problems that are currently untreatable.
The Potential of AI in Retinopathies, Home Monitoring and COVID-19 Impacts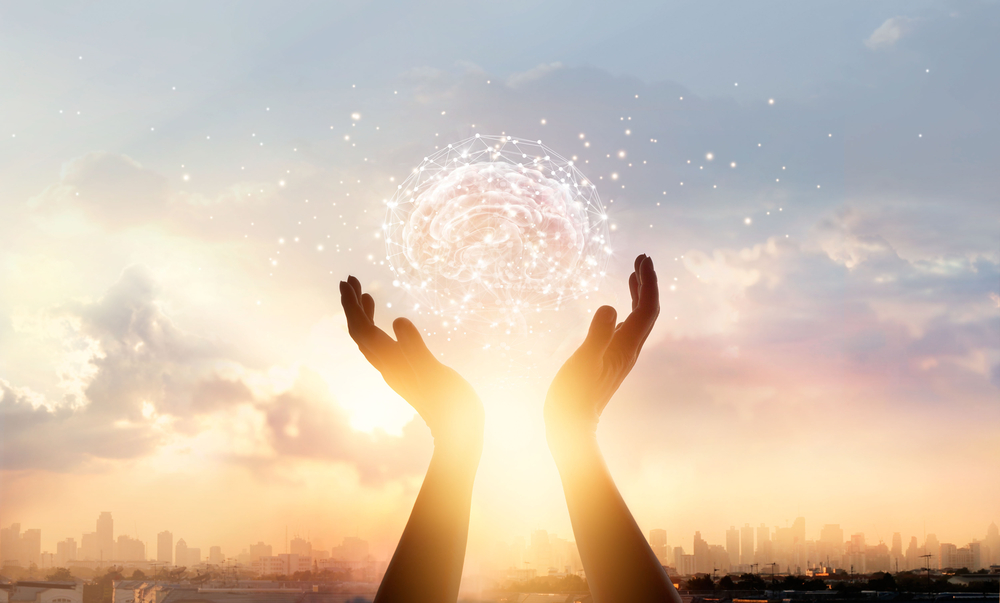 Yaacov Michlin is excited about the potential of AI to diagnose diseases like diabetic retinopathy. If patients can be allowed to take a new generation of sophisticated tools home with them in order to do daily monitoring, we can diagnose and monitor diseases in their early stages. This combination of at home-testing and AI has the ability to deal with many of the diseases which cause vision loss, and the technology should be with us in the next two or three years.
The panel then moved onto the effect of the COVID-19 pandemic on the industry. Colin Francou said that, with the exception of a few clinical trials, it did not affect his company's running very much. However, they will be looking more to their digital strategy, which they shall now look to invest in more. Prabhu Velusami agreed, saying he believes there will be a permanent change in attitudes due to COVID-19 and that J&J will be prioritizing innovative technologies that avoid patients having to meet physicians face to face, such as remote monitoring, diagnosis, treatment and telerefraction.
Editor's Note: The 2021 OIS Israel Innovation Showcase was held on June 10. Reporting for this story took place during the event.