Study shows AMD patients using ForeseeHome AMD Remote Monitoring have excellent long-term vision in a real-world setting after wet AMD conversion when compared to current standard of care.
Wet AMD is a leading cause of blindness in the United States. Despite multiple approved therapies, there is no cure. And long-term real-world outcomes for patients have been underwhelming, often due to late detection of the conversion from dry to wet AMD, which can lead to irreversible vision loss by the time treatment begins.
However, this conversion could be detected earlier with the ForeseeHome AMD Remote Monitoring, an early warning system to help detect wet AMD earlier. Notal Vision, Inc. recently reported the publication of the Analysis of Long-term visual Outcomes of ForeseeHome Remote Telemonitoring (ALOFT) study1 and its results in Ophthalmology Retina. The study showed remarkable long-term visual outcomes for patients participating in the Medicare-covered, AI-enabled ForeseeHome AMD Monitoring Program, provided by the Notal Vision Monitoring Center.
The retrospective study followed 2,123 dry AMD patients, from five retina specialist practices over a 10-year period, with the goal of understanding visual outcomes of patients participating in the digital healthcare program. Visual acuity (VA) at conversion to wet age-related macular degeneration (AMD) was 20/39, vastly exceeding the mean VA of 20/83 using current standard of care (relying on office visits and patient self-reported symptoms) alone, as shown in the American Academy of Ophthalmology's IRIS® Registry.2 More importantly, the long-term treatment outcomes of patients whose conversion was detected early using ForeseeHome had an average VA of 20/32 after an average of 2.7 years of treatment, a stark contrast to a typical patient's VA of 20/80 after two years of follow-up using current standard of care as reported earlier2 based on the IRIS Registry.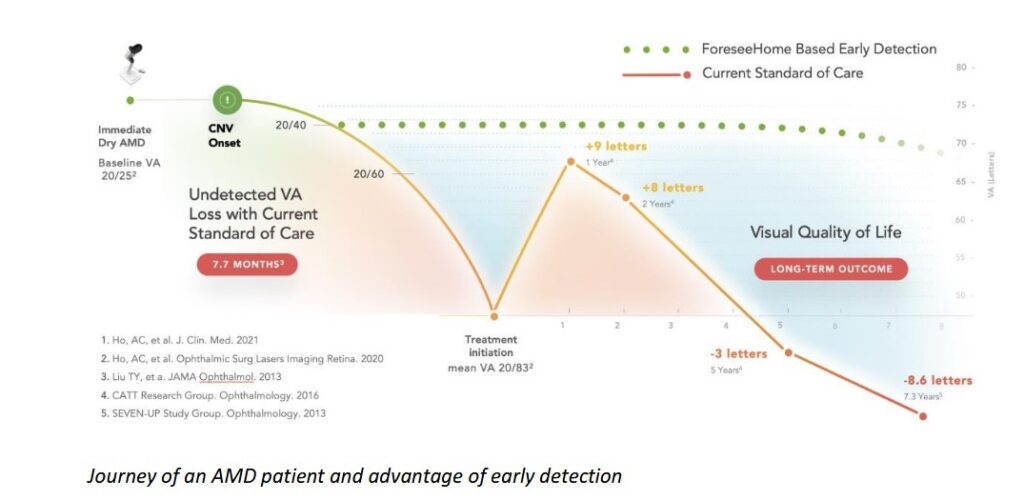 ForeseeHome uses a unique, proprietary test called peripheral hyperacuity perimetry (PHP), which is highly sensitive in detecting small changes in the retinal structure that may indicate the conversion from dry to wet AMD early. The FDA cleared, AI-enabled device is used by patients at home, between their regularly scheduled eye appointments. The Notal Vision Monitoring Center alerts referring physicians of abnormalities that may warrant an office visit for further diagnostic testing and potential treatment initiation.
"We expected to see better outcomes with ForeseeHome given the extensive experience we have with the program in our practice, but we were truly amazed by the magnitude of long-term benefit for the patient population," said Richard Garfinkel, MD, study investigator from Retina Group of Washington.
"The ALOFT study shows a promising path for millions of dry AMD patients currently at risk of vision loss," said Kester Nahen, PhD, CEO of Notal Vision. "The service our monitoring center provides to referring physicians and their patients helps protect vision for those who require long-term therapy."
For more details about the ForeseeHome AMD Monitoring program and the Notal Vision Monitoring Center, visit notalvision.com/technology/foreseehome.
References