Homeward bound
I wish I was
Homeward bound
Home where my thought's escapin'
Home where my music's playin'
Home where my love lies waitin'
Silently for me

As I awoke last Friday in the local hospital quarantine, those lyrics from Simon & Garfunkel sounded so graceful in my mind. They played automatically and on repeat, because I knew I was going home. I knew it because of a much less graceful telephone exchange a few days earlier.

"Hey Babe," I said gruffly. "Uh, I don't think this is who you think this is," answered a female diplomat from the U.S consulate in Ho Chi Minh City, instead of my wife, from whom I was expecting a call.

As the local hospital staff in Vietnam held information close to the vest, the consulate was my source of critical information — and accidental flirtation. She said I'd be having a final coronavirus test Friday morning — with a rubber stamp of approval since I'd already tested negative twice — and then I'd head home.

So indeed, around 4:30 p.m. last Friday, I was homeward bound after 32 days of planes, trains and automobiles on an ophthalmology media tour through India, Africa and Europe; 21 days in local hospital quarantine upon return to Vietnam; and after 19 days of having first tested coronavirus (COVID-19) positive. I was now officially coronavirus negative for the third test time, and I could go home . . . to quarantine. All told, this sent my mind reeling into more life contemplations and considerations over the past weekend, as I still have a lot of time on my hands in a safe, alone space at home for the next 14 days at least.

Good Friday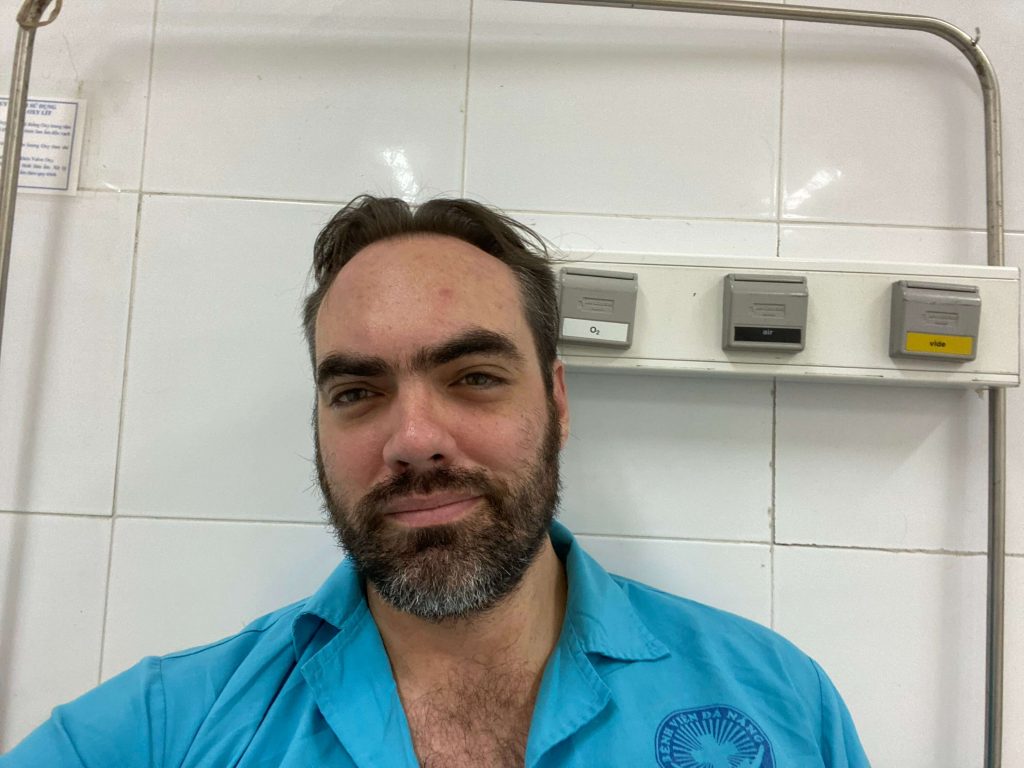 The day itself had been hurried.

I had been conducting a few Skype video interviews from hospital quarantine about the impact of coronavirus on our world of ophthalmology. I should have gotten to it earlier, but that's a funny thing about time in lockdown. It seems endless, until suddenly it's not. There is a release date, and it seemed so far away until the moment it arrived.

So, I found myself avoiding calls from hospital staff to make arrangements for my transport home as I was hurriedly interviewing ophthalmologists. The time I had wasted, instead of put to good use, caught up with me. And I was shunted back into the real world, or at least some semblance of it.

I wonder in a way if I experienced a microcosm of how our pandemic will end. The world's people — suddenly having an approved vaccine for coronavirus, or having quarantined the virus to death, or like me having caught coronavirus and lived — find themselves "back to normal." Will we feel as if we read enough? Learned enough? Changed enough?

I didn't finish Nelson Mandela's Conversations With Myself, which published letters he wrote during 27 years of captivity on Robben Island. I thought I would, there was enough time. Where did the time go?

I look back and think that while I beat coronavirus, there were times where I was mentally weak. I shrank into myself and slept day after day away on a 4 a.m. to 2 p.m. sleep "schedule."

I remember simple pleasures — awakening and curling my toes, which for me is probably the same feeling as a dog wagging its tail.

So, I also forgive myself; well, forgiveness isn't the right word. But it was, I guess the allowance that I provided for myself as a human, to know that I was fumbling in some ways when I could be rising above. Instead of doing something, sometimes I didn't. I was just, and only, me.

Sold!
I did generate some new business, though frustratingly so at times. It felt odd that the best I could do was prop up a few pillows against a wall, ignore the coronavirus-related rash that had developed on my back and head, balance on a somewhat unstable bed with roller wheels, and dive into work. Perhaps because of my condition and people coming out of the woodwork, I also knew of other people with coronavirus who were "working" through it.

It was a very real example of how "we are all in this together" as the saying goes. It does make me think that humanity at large will succeed through this crisis. There are the naysayers, but there also are those of us who see brilliant light not at the end of the tunnel, but even in the middle of it.
I also helped pivot the direction of my company, Media MICE, from the hospital for our new socially distanced era, spearheading new efforts to enact potential ophthalmology webinars and supportive services, digital ophthalmology conferences, and generally finding opportunities in the time of crisis. I know in these dark times there is a tendency to feel hopeless. But having caught coronavirus and lived, I felt nothing but hopeful and vibrant — and decided to put the new energy to immediate use. The alternative was pacing, which I reserved for my Bubble Boy tours when friends and family FaceTimed.

So, that's the thing. The economy may be in the doldrums. Our social life may have that once-upon-a-time feel. But if we're alive, we are well!

The Casino Clock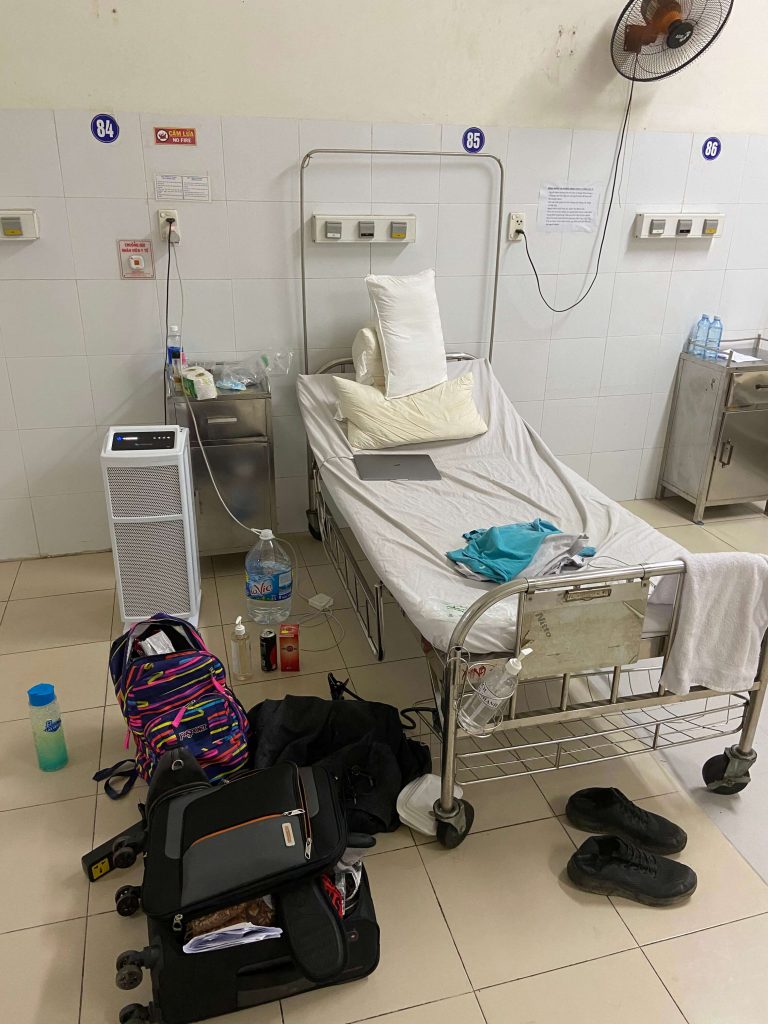 The most important thing I learned in hospital quarantine was about myself: I have become an exceedingly patient man. I heard massive complaints of other foreigners kept in quarantine. I heard screams at times. I witnessed a local Vietnamese patient come into my isolation unit when I was still actively infected to try to trade beds with me for my "window seat."

Yet I kept content.

The casino-like clock on the hospital wall never bothered me — it simply rendered itself meaningless, given the surroundings and circumstances. The loss of any personal human connection didn't feel difficult. I found crevices of smiles through hazmat suits. My coronavirus diagnosis — while disappointing and dark — never made me sad to the point of tears. Time perhaps was running out. But I was content in my present, walking barefoot on sun-soaked hospital floor tiles; lounging on my "daybed"; and smelling the coastal air of Da Nang, tainted perhaps a little less by vehicular pollution.

And when my day for discharge finally came, I took stock of my emotions: I was happy to go, but I would have been all right to stay longer as well. They say patience is a virtue. Within quarantine, I found a serious amount of that virtue.

Paparazzi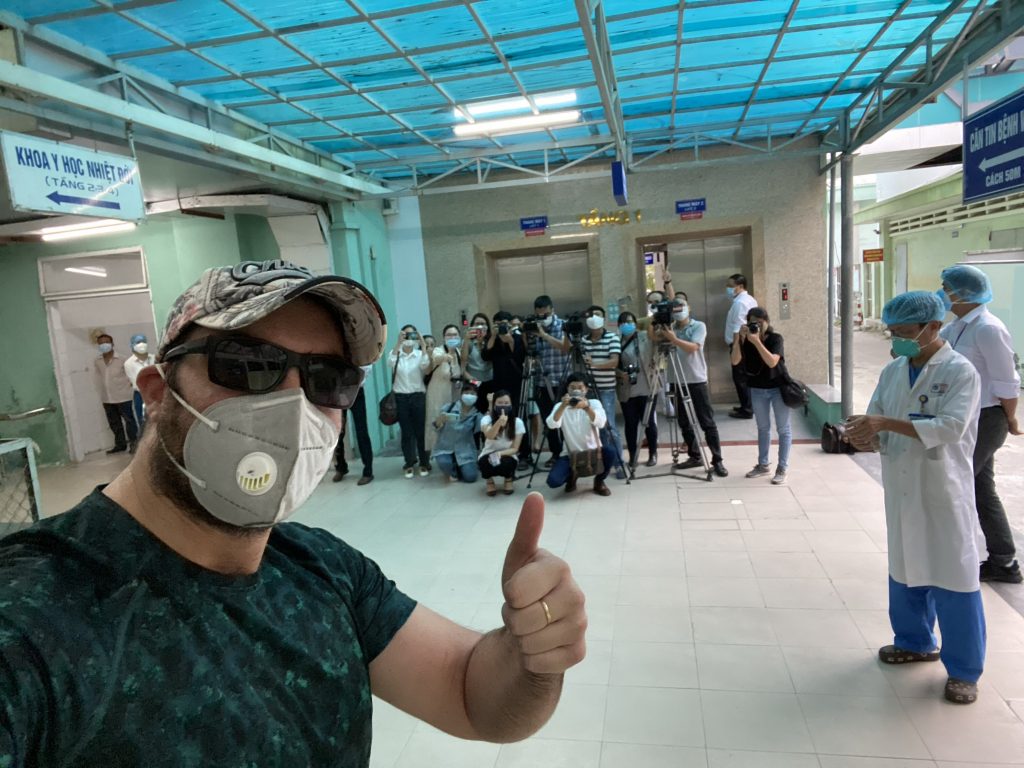 Before I left the  hospital quarantine, my wife brought me a camouflage T-shirt and shorts to wear upon leaving, and asked me to wear my mask, sunglasses and hat. Apparently there were several dozen reporters and cameramen outside. I've probably managed a lot more than 15 minutes of fame within ophthalmology, but this would be 15 minutes outside of our industry. Weird. 

I suppose they were all there because I was the only American in Da Nang to contract, and then be free of coronavirus, and only the second in all of Vietnam. A single interviewer asked questions for the pool of reporters, and I essentially praised Vietnam for its robust response of my condition. I went so far as to say something like: "Vietnam saved my life."

But did it? Doctors and nurses were there around the clock, and I was constantly tested and monitored, but given no medications (because there was no known medication for coronavirus at that time). Mine was a mild case that consisted of headache, backache, cough, darkness under the eyes, and some nights of breathlessness. I never had a fever, and I never needed breathing support.

Well, Vietnam — along with a robust network of friends (read: you) and family — helped keep me in good spirits, which I do think is important in beating coronavirus. The power of the right mindset is essential in fighting any disease. Vietnam also had seemingly plenty of unused medical equipment in the hospital in case my case became dire. I had a full room to myself and there were a number of other unused beds. And so I think care and attention would have been more than adequate.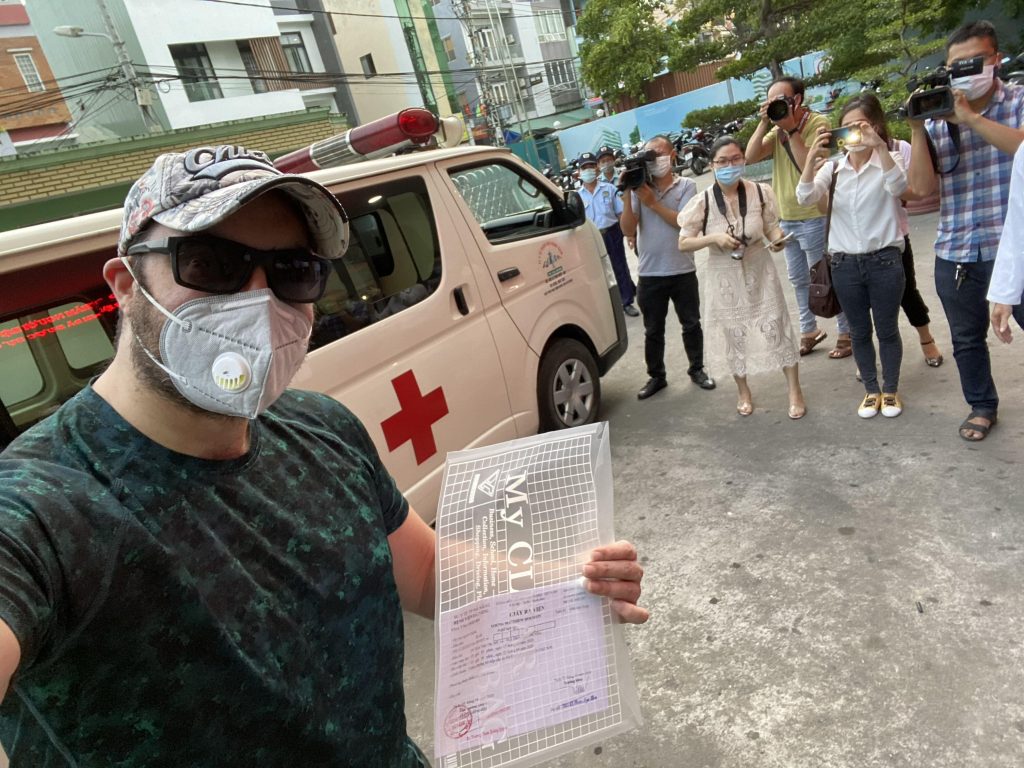 The very nature of quarantine also means you are constantly lying down on a bed, or at most lightly walking around a room. I was therefore commanded to rest several days in quarantine even before my symptoms arose. I didn't therefore drink alcohol or do anything stressful, etc. I was rested when the virus came on — and ready for a fight.

Vietnam also saved my quality of life — and conscience. Had I gone roaming around the streets of Vietnam, instead of being immediately quarantined at the airport and then hospital, I would have infected a number of people in my community, as well as my family. While it is possible I infected others while in Europe or on planes, I checked with most of my business contacts at least and they were okay, despite long talks in close proximity. It leads me to believe that I contracted the virus rather late — perhaps on a plane back to Vietnam, as planes seemingly serve as easy transmitters of disease in enclosed environments.

So, I guess to me, more accurately: Vietnam may have saved my life, it certainly could have saved my life, and it absolutely saved my quality of life, as the angel on my shoulder says the virus in me was contained — at least in my community — as best as can be expected. Whether it was contained from people I do know and could not contact I cannot say, and the devil on my shoulder says I'll have to live with that. 

At least the news reports and broadcasts about my case were good news segments. Hopefully, St. Peter will get those reports at the entrance to the Gates of Heaven someday, and conveniently lose any hate mail.

Home "Alone"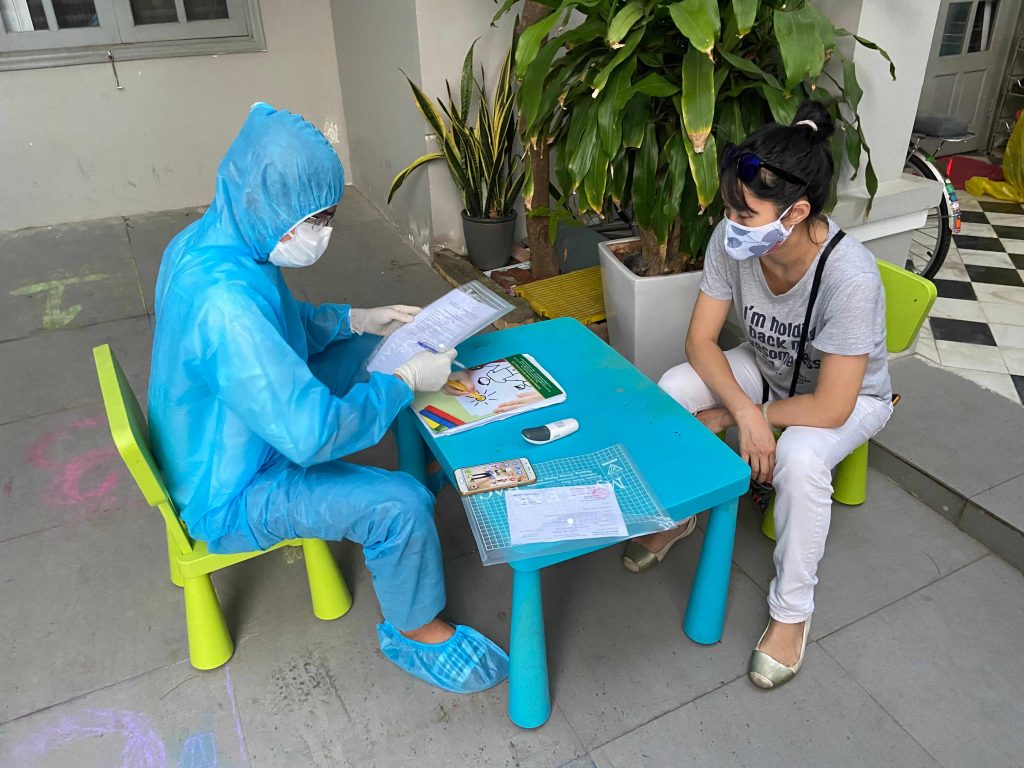 Now I'm home, in another 14-day home quarantine just to make sure I continue to be symptom-free of coronavirus, although I've now tested negative three times.

I think, unlike others experiencing the confines of home at this decisive moment of pandemic history, I feel liberated.

I ate four Pepperidge Farm Nantucket Double Chocolate cookies, followed by an entire bar of Lindt Swiss chocolate the other night. I have spent most of my time in the aptly named "Bunker," a small spare bedroom with a sofa bed. Sofa bed! It's been ages since I've slept on one of these. I've gone to sit on the balcony outside and watched my kids run around our front yard, drawing messages to Daddy in chalk. I've taken long baths in my most prized possession, a custom-made marble bathtub I call "Ode to Matt." I've gazed fondly on my wife's love language — acts of service in the preparation of meals for me — instead of my old desiring of sweet words from her (I do just fine in my own silence, apparently). And I've generally been oh-so-happy to be alive and free from the bodily tyranny of a virus.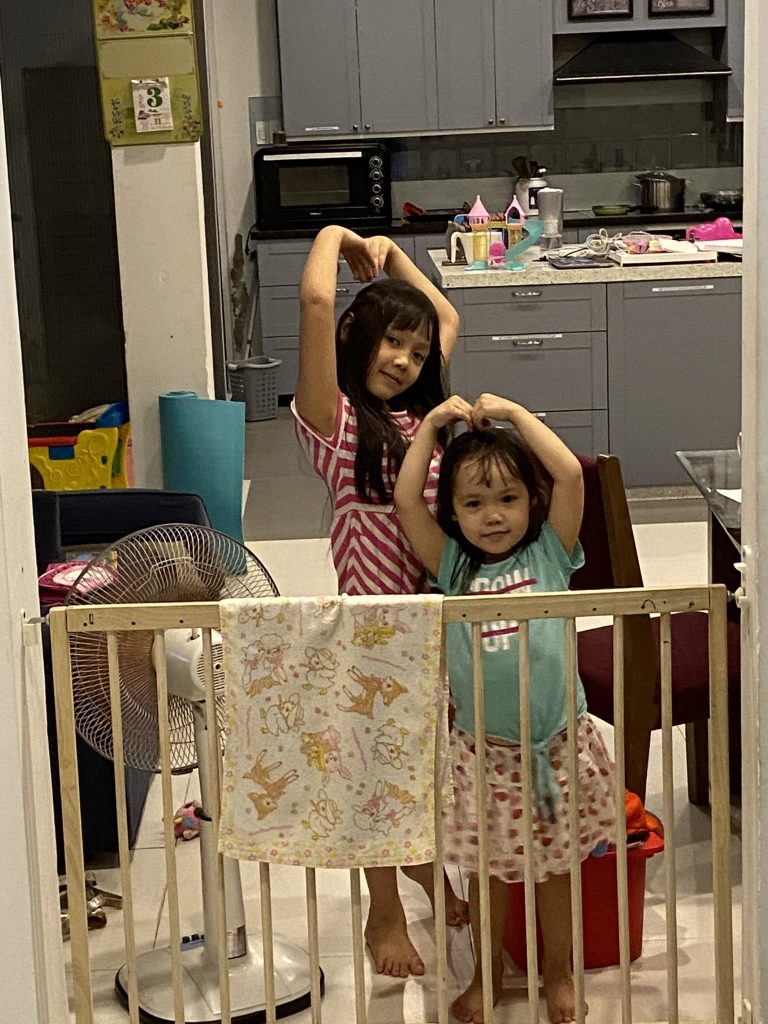 With my crazy-life-Matt-goggles on (these are always on by the way), it's hard to imagine that a term like "home quarantine" in any pejorative sense could exist. Home sweet home really is a thing, even today. I think we should all feel blessed to have a home to be in.

Negative, but Positive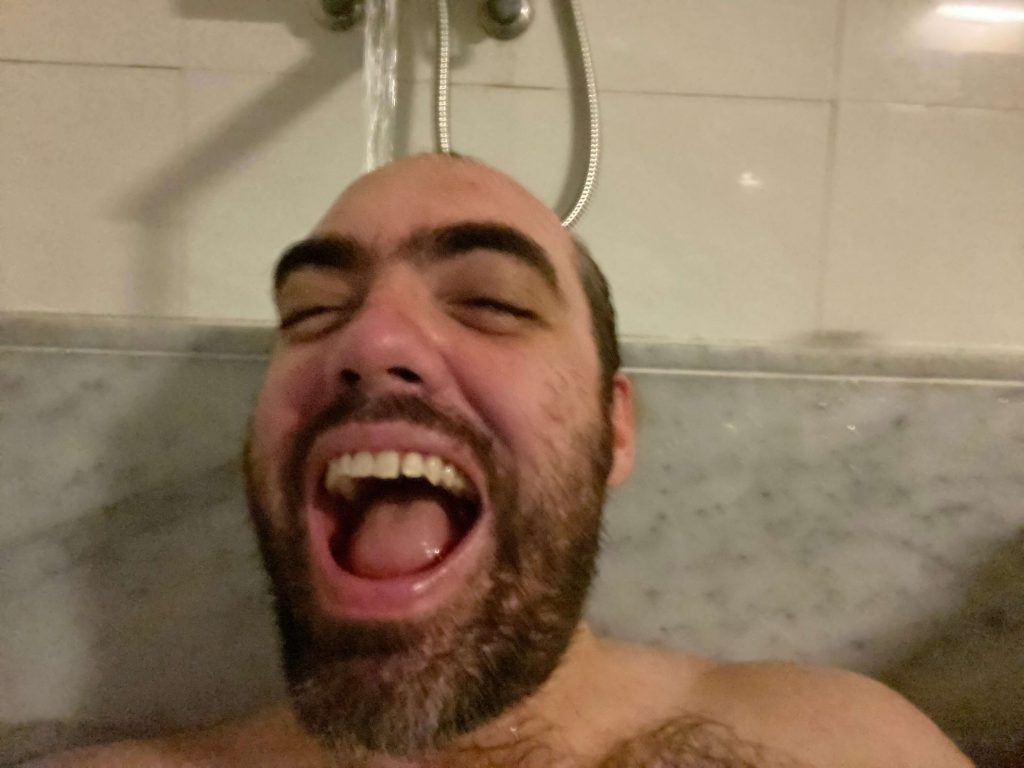 The head of the retina division at a large company asked me some years ago, "How is it you are always so happy?" I'm not, but I am optimistic, buoyed by the support of a mind that enjoys the theatre of life, the love of friends throughout our industry, and the opportunity to find opportunity — if not today, tomorrow. Because I'm not dead yet!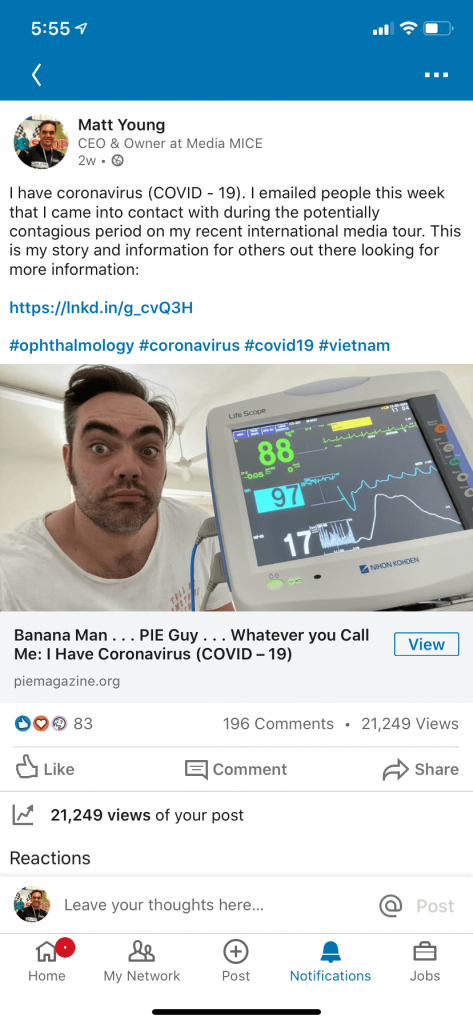 In the past, I had imagined being diagnosed with a terminal illness (coronavirus is far from that, from which it is clearly possible to recover). I hoped if that happened, my thoughts immediately would go to the great life I've lived, consider it a real good run, and get ready to bid farewell. Well, I didn't get an A+ in that regard. When it came time to prepare for the worst, when early on in my diseased state I had nights of breathlessness with underlying forms of asthma potentially exacerbating things, I was concerned. And deep down, I hoped to survive, rather than use the time to cherish the memories I had. "I'm only human, I do what I can, I'm just a man, I do what I can," sings Rag'n'Bone Man. He's right. we all are.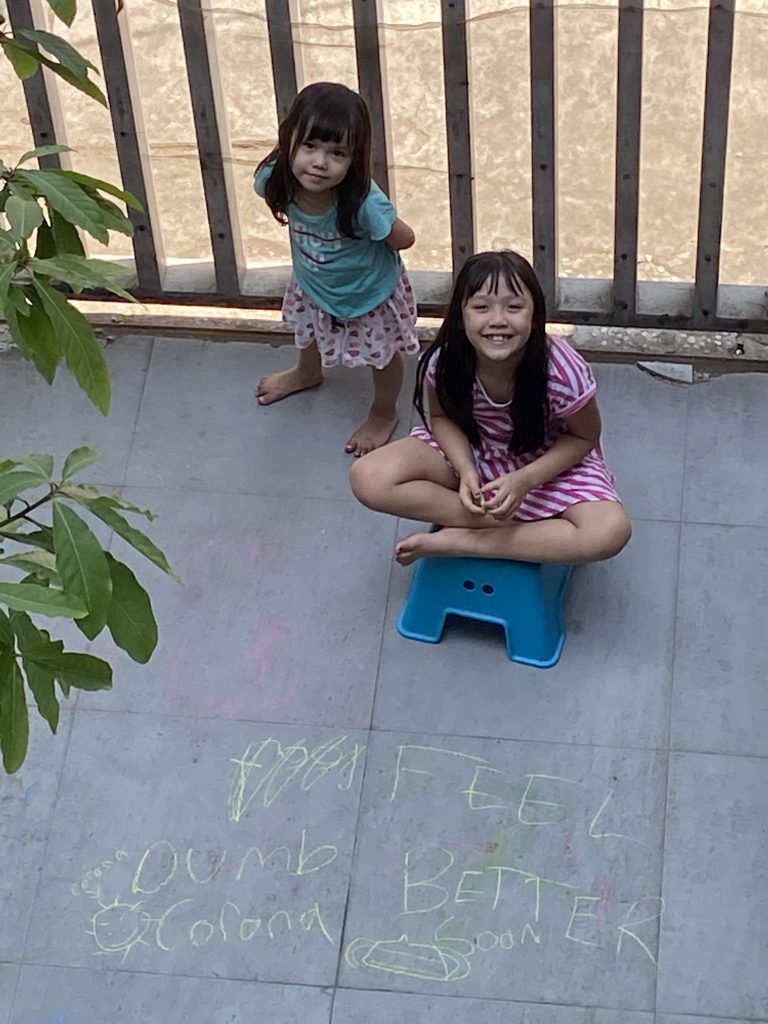 I do wonder when my number is finally up — maybe 10, 20 or 60 years from now — whether I'll remember back to my days with coronavirus, and appreciate that I lived through to see many more years at least. I hope my spirit will be noble enough by then to allow for that kind of gentility. For now, I'm still just a hustler in something like a banana suit.