The eye care industry produces billions of medical images each year. For good reason, too: Treatment success often depends on the accurate interpretation of these medical images by eye care specialists. Artificial intelligence (AI) tools are available to offer support in interpreting fundus photos and optical coherence tomography (OCT) scans. However, a significant number of ophthalmologists are still skeptical about these advancements.
Progress in the healthcare industry is unstoppable. And soon, AI tools that analyze medical images will be more prevalent in eye care practices for various reasons.
Here are four key factors highlighting the importance of artificial intelligence in medical image analysis:
1. AI tools enable better patient triage.
For instance, Altris AI (Illinois, USA), one of the tools for automated OCT scan analysis, has an AI severity module that separates B-scans into three categories: low-severity, medium-severity, and high-severity B-scans. If all scans are graded as green, then there is no pathology detected.
This can help to quickly screen patients to see if they are healthy, or if the scans need more in-depth analysis. As a result, ophthalmologists can avoid wasting time on non-pathological scans.
2. AI tools make the workflow more effective for eye care specialists.
If any pathology is detected, then the severity module will highlight any B-scans with pathology and grade the level of severity of the pathology. This creates a more efficient way to determine the presence of pathology and its specific location within the OCT exam. This, in turn, reduces the time needed for interpretation and more time to discuss the results with the patients, or potentially to see more patients in the clinic.
After all, what modern ophthalmologists need is time for diagnostic methods and communication with patients.
3. AI tools help to timely detect life-threatening conditions.
Many companies are already using the potential of AI to provide early detection and diagnostic advice for eye care specialists.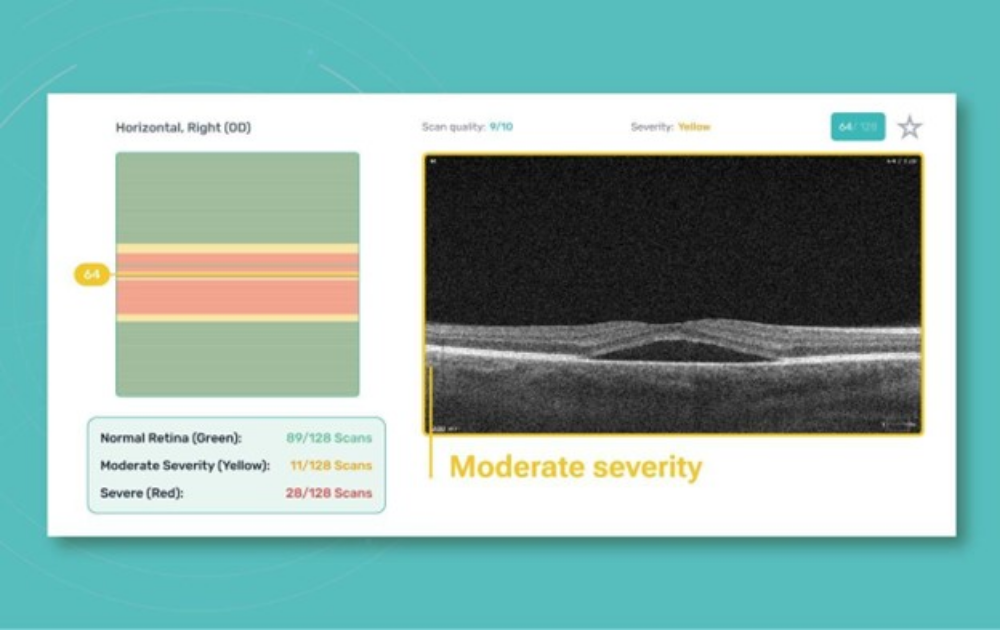 For instance, Eyenuk (California, USA)—AI for fundus photo analysis—aims to screen every eye in the world to ensure timely diagnosis of life- and vision-threatening diseases, including diabetic retinopathy, glaucoma, agerelated macular degeneration and others.
Altris AI—AI for OCT analysis—pays special attention to screening agerelated conditions, genetic diseases and diabetic retinopathy, as these conditions lead to blindness.
Artificial intelligence tools can help direct attention to red flags when examining the patient. For instance, macular holes, macular telangiectasia (MacTel), vascular diseases, central retinal vein occlusion (CRVO), and central retinal artery occlusion (CRAO) should be studied in more detail.
Here is an example of how AI detects CRVO:
Detecting early signs of conditions that may lead to blindness is of utmost importance for the healthcare industry. Given the aging population trend, the workload for ophthalmologists is bound to increase.
4. AI helps in enhancing patient education through comprehensive visual reports.
Patient education plays a critical role in patient outcomes, as well. When patients truly understand their condition, they are more likely to undergo regular eye checkups and adhere to the treatment plan.
Medical images can sometimes seem intimidating and puzzling to patients. However, AI tools often use color coding for detecting pathologies, allowing patients to understand medical images and reports better. Patients can even trace the progress of certain pathologies with the help of AI reports.
There are several AI tools for OCT and fundus photo analysis that are CE-certified and have FDA clearance, proving their efficiency and safety. As eye care practitioners, one of our most important tasks today is to eliminate skepticism surrounding these new tools.
After all, these tools are not intended to replace the work of ophthalmologists in any way. Instead, they are meant to automate routine operations and serve as decision-making support systems for ophthalmologists.
Editor's Note
On 18 September 2023, Altris, Inc. announced that it has received FDA 510(k) clearance for the Altris IMS, the company's image, and data management platform.
A version of this article was first published in PIE Magazine Issue 27.